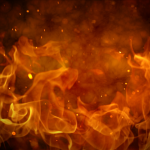 News release: Virginia State Police Bureau of Criminal Investigation's Appomattox Field Office is investigating a fatal structure fire in Appomattox County. The fire occurred Nov. 24, 2018, at approximately 6:45 a.m. at a residence in the 100 block of Crawley Lane.
When the Appomattox County Fire Department responded to the scene, they located a male subject inside the house. The individual, identified as Brian K. Wood, 43, was transported to Lynchburg General Hospital where he was pronounced dead. His remains have been transported to the Office of the Medical Examiner in Roanoke for examination and autopsy.
The cause and origin of the fire are still under investigation. But, at this stage of the investigation, the fire does not appear to be suspicious in nature. Mr. Wood was the only occupant at his residence at the time of the fire.
The Concord Volunteer Fire Department also responded to the scene to assist with putting out the fire.