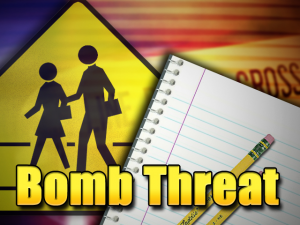 The Henry County Sheriff's Office says two female students at Bassett High School  are in custody, charged with making a bomb threat. Officials say the threatening message was discovered this morning, bringing police and bomb-sniffing dogs to the school to determine there was no actual  danger.
News release: Today about 9:50 am, a threating message was discovered at Bassett High School. The Henry County Sheriff's Office and school officials worked together to make sure our students and staff were safe. Law enforcement officers and K-9's trained to detect explosives cleared the school. The K-9's were from Henry County, Virginia Tech Police Dept., Blacksburg Police Dept., and Virginia State Police. Local volunteer fire and rescue were on scene as a precaution as well. Through the course of the investigation, 2 female students were developed as suspects. They were developed through the use of cameras in the school and witness statements. The 2 suspects subsequently confessed this was a hoax and there was never a threat to the students. The suspects have been charged with threats to bomb or burn (felony) and obstruction of justice (misdemeanor). They are incarcerated at W. W. Moore Detention facility.
Parents are urged to have conversations with their children who are students, encouraging them to immediately report any type of threat they hear and also, not be involved in these acts as they can have serious legal repercussions. Anyone having information pertaining to this incident is asked to contact the Henry County Sheriff's Office at (276) 638-8751 or the Crimestoppers Program at 63-CRIME (632-7463).  The Crimestoppers Program offers rewards up to $2500.00 for information related to crime.  The nature of the crime and the substance of the information determine the amount of reward paid.