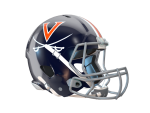 CHARLOTTESVILLE, Va (AP) — As offensive coordinator Robert Anae and quarterbacks coach Jason Beck met with new Virginia quarterback Bryce Perkins to install the offense this spring, they'd probe to see what Perkins already was familiar with and comfortable doing.
Now in his third college football program in four years, Perkins had a wealth of experience to draw from.
"You learn a new offense, but you've still got memories of the old offense," Perkins said Saturday after the Cavaliers' 15th and final practice of the spring, a public workout at Scott Stadium. "Sometimes you intertwine those two."
"Bryce is our starter. I'm naming him as such," Mendenhall said Saturday. "At this point, it's his job to lose. He has moved the team most effectively and I think, not only does he have the coaches' trust, he has the team's trust."
Perkins' football savvy and previous experiences helped the coaching staff install more this spring than it had anticipated, as it set out to craft an offense tailored to the dual-threat talents of Perkins, a former Arizona State quarterback who spent last season at Arizona Western College, a community college in Yuma, Ariz.
"You don't want to start from scratch, so we we're able to build off things he's already done and he knows," Beck said. "We did more, in terms of what we asked the QBs to do, than I would have thought coming into the spring. I was really impressed with how well Bryce did. That allowed us to push the pedal with that."
The 6-foot-3, 215-pound Perkins led Arizona Western to the NJCAA title game last season, throwing for 1,311 yards and seven touchdowns and rushing for 353 yards and four TDs.
Anae and Beck want to move Virginia to an offensive scheme more like what was run at BYU, which went to 11 straight bowls under Mendenhall, in an attempt to improve the production of a unit that averaged just 22.5 points per game last season. That option-heavy attack relies on multiple personnel groupings and plenty of presnap motion.
"That is our brand on offense," Anae said. "And I take pride. I think we may be the top in the country with unique personnel groups. We've got 13 and intend to use them. Multiple shifts and multiple guys all over the place. That is our brand. There should be somewhat of a chaotic effect, and that's the design."
While having Perkins and his skill set behind center is what is giving the coaching staff the chance to move away from the pocket-passer offense the Cavs ran a year ago with quarterback Kurt Benkert, it's the versatile talents of senior Olamide Zaccheaus, who U.Va. held out of Saturday's practice, that will really make the offense go.
"We've done a tremendous amount of moving him around," Anae said. "Sometimes he's running back. Sometimes he's outside receiver. He's always in motion or lining up here to there.
The combination of Perkins at quarterback, senior Jordan Ellis at tailback and the versatile Zaccheaus gives Virginia big-play punch.
Olamide is definitely one of the most explosive players I've been around," Perkins said. "He's great in the plays he can make with his feet. You throw it 3 yards, and he takes it for 100. That ability scares defenses. You can't play how you want to play when you have him on the outside, [Ellis] in the backfield and the threat of me running."
A year ago, the 5-8, 190-pound Zaccheaus caught 85 passes, ran 27 times and returned seven kickoffs. This year, the coaching staff wants to expand his role even further, using him in more positions and finding more ways to get him the football.
That, Anae said, is the challenge facing the assistants.
"Olamide has separated himself as the primary playmaker on offense. Now it's a matter of challenging the offensive staff. Can we create ways to get him the ball that's quarterback friendly?"
For his part, despite accounting for six touchdowns and 1,222 total yards, Zaccheaus came into the spring knowing he could have done even more in 2017 and is eager to prove he can be the focal point of the offense.
"I thought I was a lot more consistent with my playmaking ability," Zaccheaus said. "It's something I wanted to work on coming into this offseason. I left a lot of plays out there on the field last year that I've made before — things like making tough catches and staying on my feet."
Note: Mendenhall said defensive tackle James Trucilla has a "medical condition" that has forced him to give up the sport. U.Va. plans to add a graduate transfer defensive lineman to fill his roster spot this summer.