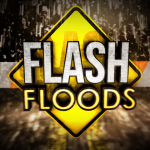 RICHMOND, Va. (AP) — Far north of where Michael made landfall, flash flooding and treacherous roads in Virginia claimed at least five lives, including a firefighter responding to a crash and a man swept away after his vehicle was swamped. Michael roared through Virginia starting Thursday afternoon, a day after it began its deadly march through the Southeast. On Friday, the Virginia Department of Emergency Management said the state medical examiner has ruled that four drownings and the firefighter's death were storm-related.
Some of the worst bands of the storm pummeled Danville and surrounding Pittsylvania County, near the North Carolina state line. Three people died in those areas after rushing floodwaters overtook their vehicles. "I have never seen anything close to this in my entire life," said Christie Wall, 43, a lifelong Danville resident and the business manager of a packaging distributor that was flooded in the city's downtown. Wall said flooding was "everywhere" in the city of 43,000, washing away streets wherever there seemed to be a creek nearby.
Danville police said William Lynn Tanksley, 53, died after being swept away from his vehicle during a flash flood Thursday afternoon. Hours later, police said Jennifer Bjarnesen Mitchell, 60, died after her vehicle was stranded and then overcome by floodwaters. About 10 miles (16 kilometers) away in the Mount Hermon area, fast-moving floodwaters swept away James E. King Jr., 45, of Dry Fork, Virginia. His body was later found downstream by firefighters and State Police agents.
In Charlotte County, about 90 miles southwest of Richmond, a teenager was rescued while clinging to a guardrail after floodwaters swamped his family's car and swept away the teen's father and grandmother. Charlotte County Administrator Daniel Witt said the 17-year-old was rescued Thursday night after a local road was flooded. Virginia state police said two other occupants had also clung to bridge railings, but were swept away by the rushing water before rescuers could reach them.
Witt said the body of the boy's father was found late Thursday night. His grandmother had not been found by late Friday afternoon and was presumed dead, he said. Rescuers continued to look for her late Friday. "It was very shocking. My thoughts and prayers go out to the family," Witt said.
As the storm moved northeast and lashed the Richmond area, a firefighter was killed. He was among emergency personnel responding to a two-vehicle crash. The Hanover County Fire-EMS Department said in a statement that Fire Lt. Brad Clark died when a tractor-trailer struck a fire engine that came to the crash scene around 9 p.m. Thursday. The department said the fire engine had its lights and other emergency equipment activated. Officials said the crash happened during heavy storm conditions, with slick roads. Clark was among three members of the department who were injured, and he died at the scene, authorities said. The other two sustained serious injuries. The truck driver had to be extricated and had serious injuries.
The storm also led to many rescues in Virginia. In Pittsylvania County, state police said their rescue divers were called in when a boat capsized as three volunteer firefighters tried to reach people caught in the rising waters on a bridge. They were able to pull two firefighters and the motorist to safety. The third firefighter was swept downstream, but a local resident was able to pull him onto land.
In Danville, Vice Mayor J. Lee Vogler said it would be a while before officials could grasp the full extent of the damage. Much of the downtown and many parts of the city had been flooded. Even a train trestle that had been used during the Civil War was uprooted by the water. "In the span of 10 minutes, it went from being just another rainy day to a very serious storm," Vogler said. "There wasn't a whole lot people could do to avoid it. It was everywhere."
The National Weather Service said parts of the state got up to nine inches of rain and wind gusts of up to 80 miles per hour by early Friday. The storm downed trees and power lines across the state, cutting power to more than half a million customers.