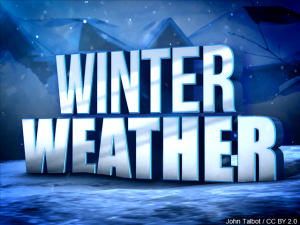 From the National Weather Service: A winter storm was moving across the region this morning as cold air moved southwest along the east side of the Appalachians from an area of high pressure across the northeastern U.S. Between late Sunday evening and early this morning, several inches of snow fell across areas along and west of the Blue Ridge and mainly north of U.S. 460. This area of heavy snow and sleet that moved across the region earlier this morning was shifting north of I-64 and will continue to do so this morning. However, pockets of light freezing rain and freezing drizzle will linger across the region through the morning and into the afternoon in northern areas until temperatures slowly creep above freezing. While additional accumulations of snow and sleet are expected to be minor, ice accumulations from freezing rain and freezing drizzle will remain possible through the morning in the south and well into the afternoon across the north until temperatures finally rise above freezing.
WINTER STORM WARNING NOW IN EFFECT UNTIL 7 PM EST THIS EVENING
* WHAT…Sleet, snow, and freezing rain or freezing drizzle. Additional snow or sleet accumulations of up to one inch and ice accumulations of one-tenth inch.
* WHERE…Portions of southwest and west-central Virginia and southeast West Virginia.
* WHEN…Until 7 PM EST this evening.
* ADDITIONAL DETAILS…Plan on slippery road conditions. The hazardous conditions could impact the morning or evening commute. \
PRECAUTIONARY/PREPAREDNESS ACTIONS… A Winter Storm Warning means significant amounts of snow, sleet, and ice will make travel very hazardous or impossible. The latest road conditions for the state you are calling from can be obtained by calling 511.