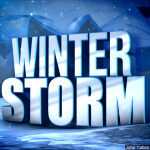 Click here for the latest school, government and business closing information.
The winter storm that dropped one of the heaviest December snowfalls in Lynchburg history has moved out, but the recovery is far from over.  Many roadways across much of the region are listed in "moderate" condition, which means they are generally snow or ice-covered.  Many others are placed in the "minor" category, indicating generally clear conditions, but with snowy or icy patches.
As of mid-morning, Lynchburg Regional Airport's website shows American Airlines ready to resume flights to and from Charlotte this afternoon. If you have air travel plans today, you should check with American before heading to the airport.
Lynchburg City refuse collection scheduled for Monday has been suspended and will be collected on Friday, December 14.  The city's leaf collection has been suspended until further notice.
As of mid-morning Monday, Appalachian Power reports almost 16,000 Virginia homes, businesses and other customers still in the dark.  The utility has not yet indicated when it expects full service to be restored.